BRK Series – Universal Bollard Retrofit Kit
Replace bollards without concrete work!
The Bollard Retrofit Base Kit allows installation of new bollards to most existing bolt patterns without removal of existing bolts. Fits all Solas Ray™ bollards, both round and square.
FEATURES AND BENEFITS
• Heavy duty die cast aluminum anchor bolt retrofit adapter plate.
• Heavy duty die cast aluminum bollard mounting cover plate.
• Includes 4 stainless steel leveling bolts.
• Two leveling bubbles to level base prior to mounting new bollard.
• Stainless steel bolts for mounting bollard base plate.
• 4 stainless steel set screws for securing the cover plate to the adapter plate.
• Powder-coat finish over chromate conversion coating in black or bronze.
DOWNLOADS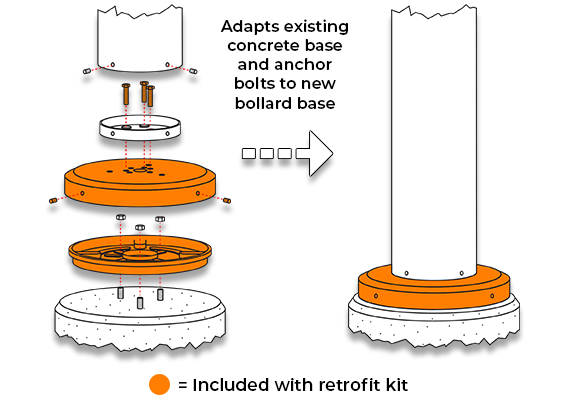 FITS SOLAS RAY 4″ AND 7″ BOLLARDS