Women's Business Enterprise Certifications
Why does working with a WBENC Certified company benefit your business?
There are 350,000+ U.S. companies with a Supplier Diversity program waiting to give you more business when you work with Women-owned Businesses. How many are YOUR clients?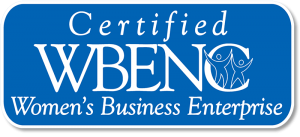 Can your company GAIN a larger percentage of your clients' lighting spend if you affiliate with a woman-owned business?  It PAYS to find out! Diversity sourcing through Women's Business Enterprises (WBEs) is mandated by most corporations today. As much as 25% of corporate purchasing dollars is being allocated to sourcing Women's Business Enterprises.
Inform your existing clients you have a WBE partner receiving a significant share of your support. Include this message in your presentations too, it will give you a competitive advantage in your clients decision-making process.
Corporations look for suppliers that are either WBEs themselves or which contract with WBEs because WBEs are proven quality suppliers. Many corporations are insisting that their non-diversity brokers and agencies outsource at least 25% of their spend to Diversity companies.
Use this button to download the Solas Ray WBENC "National" Certification.
Use this button to download the Solas Ray WBE "Indiana" Certification.