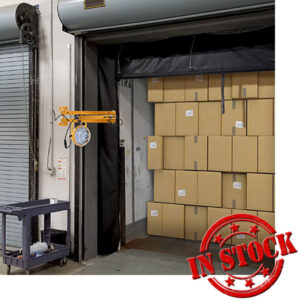 The Reacher LED Dock Light extends high efficiency light in virtually all directions with complete illumination inside of a trailer. Enhance safety, productivity and energy efficiency at your shipping and receiving areas.
This impact resistant and lens protected LED light always remains cool to-the-touch and fully adjustable while holding up to the toughest work environments. The perfect dock light – lighting where you need it, when you need it.
KEY FEATURES
• Heavy-Duty design built with rugged components.
• Designed to withstand harsh loading dock environments.
• Easily positions to provide exceptional light inside entire length of trailer.
• Accomplishes OSHA standard 1910 requiring loading docks to be lighted.
• Fixtures feature a powdercoat finish in "Safety Yellow", standard.
• 40" and 60" Reachers can be configured with options and accessories.
• Select an 8 inch lamp or 6 inch lamp depending on your needs.
DLYL-020      20w Lamp      2,200      110 lm/w      6" Diameter
DLYL-030      30w Lamp      3,300      110 lm/w      6" Diameter
DLYL-050      50w Lamp      6,000     120 lm/w      8" Diameter
DLYL-020-50-U-FG-XX-X
DLYL-030-50-U-FG-XX-X
DLYL-040-50-U-FG-XX-X
DLYL-050-50-U-FG-XX-X