The Challenger Linear LED Lighting System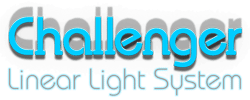 The Challenger Series provides innovative technology and efficient alternatives to typical troffer lighting.
The Challenger Series gives you exact lighting control while using less energy. With four specific light output configurations to select from you can be confident the fixtures not only perform the required task, but also work well together.
These high-end linear are completely sealed and prevent dust and debris build up. The smooth, frosted lenses provide clean, non-glare light that are easy to wipe down.